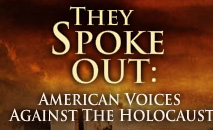 I am the voice of 3 characters in 3 graphic novel style videos produced by DISNEY - in this video excerpt, you can see and listen to 2 of them. These videos, in a series called "They Spoke Out: American Voices Against the Holocaust," have been covered by many publications including the NY Times. Click here to visit this Disney site.



Back to Previous Page
Back to Sherman Alpert's Home Page
If you cannot view the video, click here to play it.