I am now an actor member of the Westchester Collaborative Theater, a company of actors, playwrights, and directors.


---
People Magazine!
Me (oh, and Jude Law :-) shooting a scene in "The Bitter Pill" made it to People Magazine (the film has been released with the title, "Side Effects"). I'm the cameraman on the right.
<![if !vml]>
<![endif]>
---

2012: Principal role as a professor in an episode of "School Spirits" on Syfy (photo below), and another in my 4th episode of "Celebrity Ghost Stories" on BIO.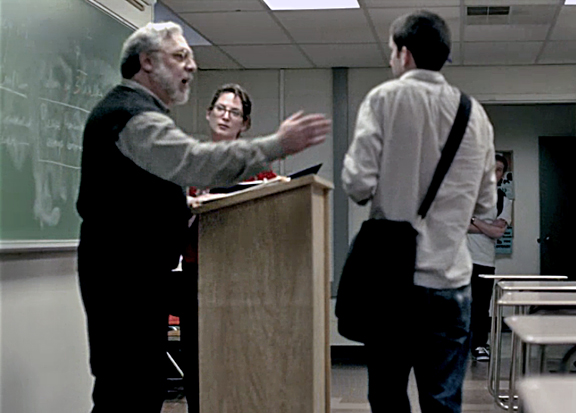 ---
"Storm Up the Sky," a short I have a small part in, has been chosen to appear in the 2011 Tribeca Film Festival.
Jan 2011: Reprised my role as the bartender in another sketch on Late Night with Jimmy Fallon.
Nov 2010: ESPN FullCourt commercial sighting! National commercial in which I have a speaking role has started to air. Click on the picture to view an excerpt:
<![if !vml]>
<![endif]>
June 2010: Worked in another comedy sketch on Late Night with Jimmy Fallon playing the bartender in a sketch called At the bar with Roger Federer. I get an audience laugh :-) Click on this image from the sketch to watch it.
<![if !vml]>
<![endif]>
12 Apr 2010: Performed voiceovers in 3 videos being produced by Disney about the Holocaust: a Rabbi character, a Jewish ghetto internee, and an American diplomat. Click here to hear my voiceovers.
Articles about this project:
New York Times
Stitch Kingdom
Super Bowl 2010 commercial! I was in the Punxsutawny Palomalu Super Bowl spot for truTV's NFL Full Contact. I was one of the town elders in a top hat on the stage.
10 March 2009 – Made my network debut in a comedy sketch on Late Night with Jimmy Fallon as a member of the "Was-Not-Wozniak Dance Troupe," a spoof of Dancing with the Stars. You can view the bit on my Videos page.
<![if !vml]>
<![endif]>